Hulunbuir Exclusive Explorer
A six day Hulunbuir exploration trip for the discerning traveller, with a night in first class hotel relax before setting off to the nomadic riding trail. As befits the name, our Hulunbuir Exclusive Explorer Tour offers tented accommodation in small luxury camps, for a more personal explore experience. Besides, the trip includes a follow up SUV. During the horseback journey, whenever you like or need, you switch from horseback to a comfort seat on the SUV to explore the steppe by road, while your individual horse should be led by our staff, ready for you to ride again. The easy switch between horseback and road travel ensure you a best comfort and preserve your body energy . Whether you are a never-rode-before explorer or a riding expert, you find your best way to explore the vast steppe.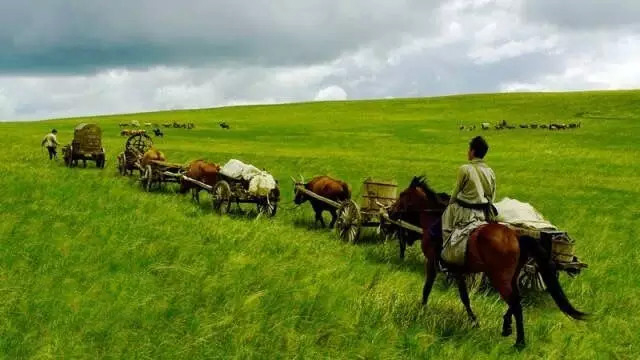 Tour Dates 2016
Departure Date : Every Mondy between 6th June to 18th September
Iternary - Riding with Nomads- 6 days
Day 1 Old Barag Banner
Pick up from Hailar Airport(or a hotel) and transfer to Old Barag Banner by mini van.Hike to Ruin of Jamuqa ancient city. This ruin is rarely visited by tourists and well maintained, presenting Mongolian culture and offers a great panorama view of the region.Spend 1 night in first class hotel (fully inclusive of meals and drinks).
Day 2 Winter Pasture
After morning activities and breakfast, get in touch with your horse and then ride 20 km to the winter pasture, where the migration trip starts.
This winter pasture belongs to the relatives of our mongolian staff. You are welcome to visit their tents and animals. You will be invited to their migration preparation jobs, if you like, for example, counting the sheep. It would be great experience to watch and learn how to count. Relax in the camp while hearing the music of morin khuur in your first grassland night and fall asleep
Day 3 & 4 Ride Nomadic Trail
Ride 60 km. Ride through fields of wildflowers across the vast steppe in the summer blossoming season. Have picnic lunch in this beautiful landscape and arrive to the camping site for sundowner and dinner. You will pass by a swamp, where you have the chance to watch various birds and wide lives such as walking gooses and eagles crossing the sky. During these days, you may meet the groups of migration families with their numerous sheep migrating on the way. Over night at the gel camps of our Nomad hosts.
Day 5 Mergel River
Ride 20 km. Arrive to a village of Ewenki minority, visit Ewenki cultural museum. At the time of festival Nadam Fair, you will get an intimate, authentic look at this local celebration. You may also participateat the contests of wrestling, horse racing, and archery. Late afternoon reach the river of Mergel, where the setting sun embraces the home coming sheep, compositing a romantic scene of the grassland in the end of the day. Overnight camp near the river. BBQ party underneath the stars.
Day 6 Explore on foot
Morning hike to the hill near the village, where you can explore the lush, beautiful valley on foot and have an over look to the Mergel River. Afternoon transfer to Hailar.
Prices -$2,739,00 per Person Contact us Book your trip now!
Price Include:
Full board meal and drink

All transportation since arrival at Hailar airport (For guests who need help to book flight from Beijing to Hailar or from abroad to Hailar, please contact us)

All the accommodation and camping equipments

Horse gear, food and accommodation

Travel insurance

Warm water supply for showers in the camping site.

Guest seat reserved for you on SUV

Photography Drone up on request

Personalized Memory Film to Document Your Journey
No Single Supplement Requirement for individual Riders. We offer discount for group booking!
Price Exclude:
Flights to Hailar

Visa fees

All items of a personal nature such as telephone calls etc
NOTE: 1) Guests are obligated to wear riding helmet. You can bring your own helmet or use the ones provided by us for free. 2) Our schedule may adjust in case of extreme weather conditions.
More Information on our Horseback Expeditions: